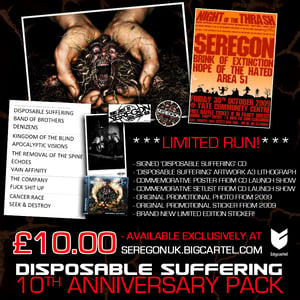 £

10.00 - On Sale
A limited run pack (And we mean LIMITED!), celebrating 10 years since the release of our album 'DISPOSABLE SUFFERING'! - Get your exclusive pack containing the following:
- Signed 'Disposable Suffering' CD
- 'Disposable Suffering' Artwork A3 Lithograph
- Commemorative Poster From CD Launch Show
- Commemorative Set List From CD Launch Show
- Original Promotional Photo From 2009
- Original Promotional Sticker From 2009
- Brand-New Limited-Edition Sticker!